People move for several reasons. Perhaps because of downsizing, moving to a house or a larger space, or even relocating to a foreign country. When relocating, it can be tedious when you are packing up from needing to box up many things and pack up your home room by room.
Moving a fish tank may become problematic within the whole disarray of packing, and if this is your first big move, you may become overwhelmed when it's time to start moving your fish. This guide will teach you how to transfer a fish tank safely to your new location. However, you will need several tools to get started when transferring your fish tank to a new location.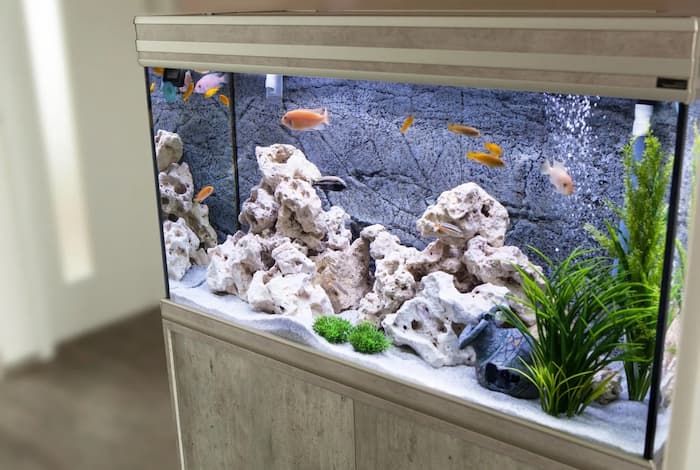 You'll Need These Materials To Move A Fish Tank
Relocating a fish tank requires several tools to dismantle components and store parts. A few of the tools necessary are everyday utensils at home, though you may have to buy other tools. It is essential to get them in advance. Here are some of the tools you need:
Plastic cases for the fish. The best storage items for fish are plastic bags, plastic containers, or buckets. These fish need ample air, so you must provide it in the bags. Plastic containers need firm covers with tiny holes. Buckets are suitable for storing aquatic plants.
Adhesive. Some bucket covers or plastic lids might not stay shut, so using a light adhesive like duct tape or rubber is best. You can also use a large band (if you can find one) to hold them tightly.
Fishing Net. When moving a fish tank, siphon your pet fish from the tank. For this task, you can use an untreated cloth net made from a durable material (if you have one available), a plastic basket/sieve, or a fishnet.
Other Supplies. Once the fish have been placed safely into the containers, they need to be covered in plastic wrap and adequately padded for transport without absorbing too much shock. Bubble wrap for the aquarium, boxes for the mechanical components, and packing foam are essential. Using aquarium water helps to increase their chances of survival. So you can get a keg, a drum, or a large bucket, depending on the size of your tank, to store the water.
Steps To Take When You Want to Move An Aquarium
Successfully moving an aquarium requires you to carry out several preemptive measures before starting the relocation. So, these are some vital steps that you should tick off the list before removing your fish's aquarium from its position:
Clean out the aquarium by withholding food from your fish for 24–48 hours before the move begins.
It is crucial to get all the supplies before taking apart the aquarium.
Wash out the tank before moving. Then dry it.
Ensure that all the mechanical parts are adequately shut off before taking them out of the tank.
Get pictures of the assembled components before you disassemble them.
Immediately after you carry out every step correctly, you can move the aquarium.
Step 1: Unpacking the Fish's Tank
Aside from pet fish, many aquariums come with additional décor, bringing more luster to the natural ambiance surrounding your fish's home. Once you verify that all purifiers and components are powered off safely, you can then unmount and stow these components inside a box.
The aquarium ornaments and stones can then be packed after that. The components and other decorative items removed from the tank must be dried, wrapped in bubble and plastic wrap (for further protection), and put inside separate boxes that you can label to make unboxing easier. When it comes to packaging and transporting vegetation, more caution is required. Corals and other aquatic plants must be carefully put into the water from the fish tank and packaged protectively.
Many aquariums contain stones, sea rocks, coarse and fine soil, or other decorations, which you must remove before you put the aquatic plants in their container. Also, using plastic bags to pack the fish, means that you must make sure there is enough air and that the opening of the pack is well sealed with a rubber band.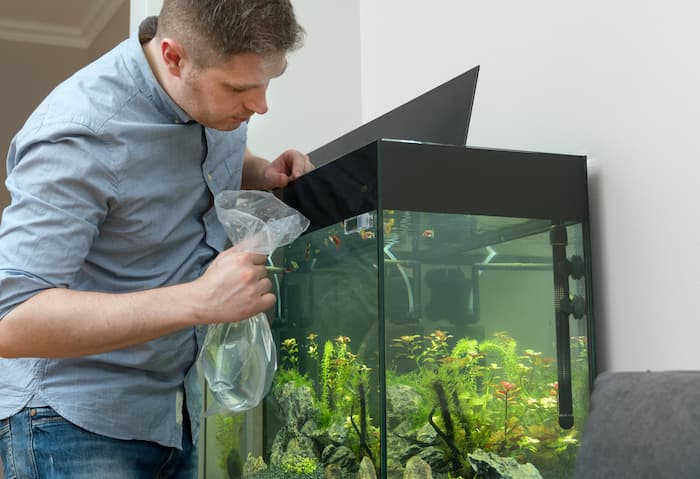 Step 2: Store The Water From Your Tank
Water from your fish's home in specific instances is needed to store them. This is mostly done because of how exhausting saltwater preparation can be. To further ease the transition, keep as much of the previous tank water as feasible. If this isn't possible, ensure you have enough materials and help make the necessary preparations.
Step 3: The Fish Tank Goes In A Box
Your pet fish tank should be stored in a box made of cardboard. It is quite a fragile item that needs a lot of careful handling. That's why its packaging must be properly labeled so the aquarium and its mechanical parts will be treated with the utmost caution while being relocated.
When Everything Is In Place, How Do You Move The Fish Tank?
You must be cautious when you move a fish tank.
To begin with, you should make sure the aquarium is not under anything heavy or above anything that could cause it to fall over.
The fish and plants need to be away from unnecessary heat in the vehicle and in an area that is decongested and breathable.
After the fish tank has been successfully relocated, you and the movers must try to swiftly and carefully reconstruct it. This protects the aquarium, the plants, and the fish.
When reassembling the tank, you should try to replace any water you stored from the old one in the new tank. Before replacing the fish, check that the tank is cold to avoid the fish dying from overheating.
Finally, after successfully rebuilding the tank, make sure you wait at least a few hours before turning on equipment like the water filter, heater, and pump. Otherwise, unsettled particles could jam the water purification system.
Remember to watch your pet fish ensure they are safe and not suffering from the stress of relocation! If you need help with moving your fishtank, call (800) 919-6332 to talk to the experts at A Plus Moving Group – moving company in Charlotte, serving all the USA. We are ready to help you anytime!